Our 100% digital workflow produces impeccable 3D models, minimizing mistakes and resulting in a superior product. We can receive your prescriptions and fabricate any appliance digitally.
Open to all formats
Our lab is fully equipped to deal with all open .STL files from intraoral scanners, including 3Shape, Itero, 3M, Cerec, and more.
File storage and retrieval
Our system makes file retrieval easy and removes the need for repeat patient visits.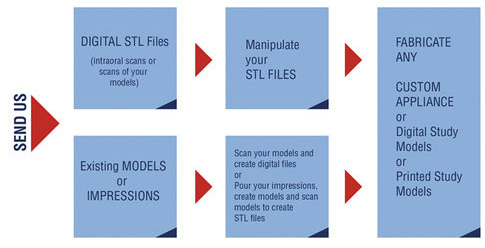 Ready retainers
Our ready retainers allow dentists to have patients retainer-ready at the de-band appointment, saving a return visit for the patient and valuable chair time.
How we create ready retainers:
We digitally remove brackets, design alignment corrections, print 3D models and then fabricate our ready retainers using PrimaClear orthodontic retainer & aligner material, building any necessary alignment refinements into the retainers prior to printing.
Turnaround time:
Five business days are required to get the cases back. If there are special requests please call and we will inform you of any possibilities.
3D-printed thermoelastic splints and night guards
3D-printing our thermoelastic splints and night guards provides us with superior accuracy and reproducibility capabilities. If a patient's splint is lost or broken, we can simply reprint it.
To produce a 3D-printed appliance, we'll need intraoral scans of the maxillary and the mandibular arches in .STL format or accurate and precise impressions, as well as the intraoral scans bite registration.